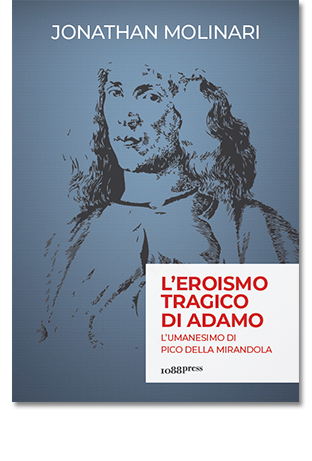 001-02
Jonathan Molinari
L'eroismo tragico di Adamo.
L'umanesimo di Pico della Mirandola
ISBN: 978-88-31926-01-0 (tascabile / paperback)
ISBN: 978-88-31926-03-4 (pdf)
DOI: 10.12878/1088PRESSBYTE2018_1
pp. 136
pdf open access: gratuito / free
versione cartacea / paperback: € 20
formato / format: 15×21 cm
Ritmo della storia, dimensione antropologica, tutela della pluralità sono alcuni dei motivi che separano la riflessione di Giovanni Pico della Mirandola da quella della maggior parte dei suoi autorevoli interlocutori umanisti, una riflessione sempre tesa a mostrare come il mosaico del sapere dell'umanità fosse costruito sulla differenza eppure strutturato secondo un'intima coerenza. Pico, umanista anomalo e nemico di ogni dogmatismo, consumò la sua breve e intensa esistenza tra il feudo di famiglia, Bologna, Ferrara, Firenze, Padova, Parigi, Perugia e Roma, ma ebbe un mondo di riferimenti culturali ben più ampio e complesso della topografia segnata da questo suo itinerario.
Jonathan Molinari è dottore di ricerca in "Storia delle idee. Filosofia e Scienza" (Istituto Italiano di Scienze Umane – Scuola Normale Superiore di Pisa). Ha insegnato come Ricercatore in Filosofia presso l'Università di San Paolo (USP), precedentemente è stato professore a contratto di Storia della filosofia del Rinascimento nell'Università di Bologna e docente della Summer School Quadrivium's Humanism and Modernity Università di Bologna – CNRS, Centre J. Pépin, AISFLF, Paris. Attualmente è professore di Storia della filosofia medievale presso la Facoltà di Filosofia dell'Università Federale del Parà (Brasile).
The pace of history, the anthropological dimension and the protection of plurality are some of the themes that separate the work of Giovanni Pico della Mirandola from that of most of his coeval, eminent humanistic interlocutors, a reflection always aiming to show how the mosaic of human knowledge is built on difference, yet structured according to an inner consistency. Pico, an anomalous humanist, enemy to all dogmatic thought, spent his short and intense life between his family estate, Bologna, Ferrara, Florence, Padua, Paris, Perugia and Rome, but enjoyed a world of cultural references which was much wider and more complex than the topography drawn by this itinerary of his.
Jonathan Molinari holds a Ph.D. in "History of Ideas. Philosophy and Science" (Istituto Italiano di Scienze Umane – Scuola Normale Superiore di Pisa). He has taught as Research Fellow in Philosophy at the University of São Paulo (USP), having previously held a post as adjunct professor of History of Renaissance Philosophy at the University of Bologna and had taught at the Summer School Quadrivium Humanism and Modernity, University of Bologna – CNRS, Centre J. Pépin, AISFLF, Paris. He is currently Professor of History of Medieval Philosophy at the Federal University of Pará (Brazil).
Copryright
1088press
Alma Mater Studiorum – Università di Bologna
Via Zamboni 33, 40126 Bologna (Italy)
ISBN: 978-88-31926-01-0
DOI: 10.12878/1088PRESSBYTE2018_1
Testi, immagini e materiali multimediali sono rilasciati sotto Licenza Creative Commons CC BY-NC-ND 4.0 degli Autori e di 1088press, se non diversamente indicato

.
Text, images and multimedia materials are under the License Creative Commons CC BY-NC-ND 4.0  of the Authors and 1088press, if not credited otherwise

.
Prima edizione: aprile 2018