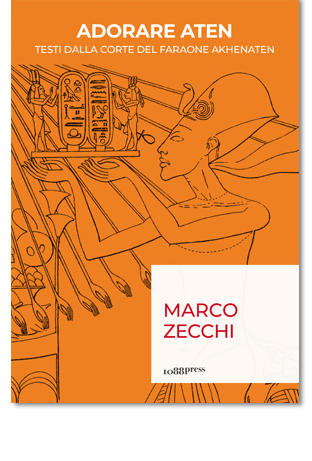 001-03
Marco Zecchi
Adorare Aten. Testi dalla corte del faraone Akhenaten
ISBN: 978-88-6923-424-8 (tascabile / paperback)
ISBN: 978-88-31926-07-2 (pdf)
ISBN-A: 10.978.8831926/058
DOI: 10.12878/1088pressbyte2019_2
pp. 176
pdf open access: gratuito / free
versione cartacea / paperback: € 19
formato / format: 15×21 cm
Alla metà del XIV secolo a.C. l'Egitto fu sconvolto dall'ascesa al trono di Amenhotep IV, il quale, nel quinto anno di regno, cambiò il proprio nome in Akhenaten. Si inaugurava una politica religiosa votata esclusivamente al culto del dio sole Aten, che apparve già ai contemporanei in contrasto con la oramai millenaria tradizione della civiltà egiziana. La scelta dei testi pubblicati in Appendice, tradotti dagli originali geroglifici, aiuta a comprendere uno dei momenti più originali della storia egiziana, dominato dalla figura di un sovrano sempre in bilico tra l'essere ritenuto un idealista e il primo monoteista della storia, o un opportunista che ammantò una rivoluzione politica di aspetti religiosi.
Marco Zecchi è professore di Egittologia all'Alma Mater Studiorum – Università di Bologna. Ha studiato presso l'Università di Bologna e il Department of Archaeology, Classics and Egyptology dell'Università di Liverpool. I suoi interessi di ricerca vertono prevalentemente sulla religione egiziana antica.
In the mid-fourteenth century BC, Egypt was upset by the ascent to the throne of Amenhotep IV, who, in the fifth year of his reign, changed his name to Akhenaten. A religious policy was inaugurated, devoted exclusively to the worship of the Sun God Aten, which appeared to contemporaries in contrast to the ancient tradition of the Egyptian civilization. The choice of texts published in the Appendix, translated from originals written in hieroglyphic, helps to understand one of the most original moments in Egyptian history, dominated by the figure of a sovereign in balance between being considered either an idealist and the first monotheist in history, or an opportunist who covered a political revolution with religious aspects.
Marco Zecchi is professor of Egyptology at the Alma Mater Studiorum – Bologna University. His academic training took place at Bologna University and the Department of Archaeology, Classics and Egyptology at Liverpool University. His research focuses mainly on ancient Egyptian religion.
Copyright
1088press
Alma Mater Studiorum – Università di Bologna
Via Zamboni 33, 40126 Bologna (Italy)
ISBN: 978-88-31926-05-8
DOI: 10.12878/1088pressbyte2019_2
Testi, immagini e materiali multimediali sono rilasciati sotto Licenza Creative Commons CC BY-NC-SA 4.0 degli Autori e di 1088press, se non diversamente indicato

.
Text, images and multimedia materials are under the License Creative Commons CC BY-NC-SA 4.0  of the Authors and 1088press, if not credited otherwise

.
Prima edizione: aprile 2019 / First edition: April 2019