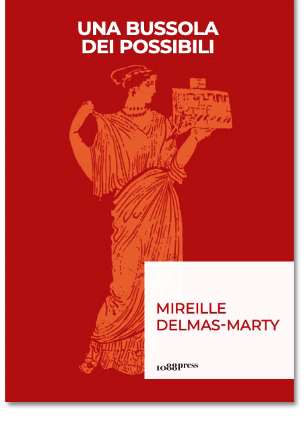 Mireille Delmas-Marty
UNA BUSSOLA DEI POSSIBILI
Governance mondiale e umanesimo giuridico

(Title's translation: A Compass of Possibles. Global Governance and Juridical Humanism)
edited by Emanuela Fronza and Carlo Sotis
ISBN: 978-88-6923-812-3 (paperback)
ISBN: 978-88-31926-29-4 (pdf)
ISBN: 978-88-31926-30-0 (enhanced)
DOI: 10.12878/1088pressbyte2021_1
paperback: € 14,00
pp. 84
format: 15×21 cm
We live in uncertain times, disrupted by apparently irreconcilable headwinds. Freedom and security, competition and cooperation, exclusion and integration, innovation and preservation. In an insightful reflection on law and justice, Mireille Delmas-Marty reminds us that humanism and the focus on the human being are more necessary than ever in facing the challenges of our time: healthcare and financial crises, social and ecological crises, humanitarian disasters, and global terrorism all have such strong interdependencies that no State can any longer cope on its own. Juridical humanism is the compass identified by the jurispoète Delmas-Marty to seek an order acceptable to all, while imagining a new world.
Mireille Delmas-Marty (1941-2022) has been a Professor at the Collège de France (Chair of Comparative Legal Studies and the Internationalisation of Law, 2002-2011) and a member of the Institut de France since 2007 (Académie des sciences morales et politiques). She has contributed as an expert to numerous projects by French, European and international institutions. She has authored over forty books and her works have been translated into twelve languages.
Copyright
1088press
Alma Mater Studiorum – Università di Bologna
Via Zamboni 33, 40126 Bologna (Italy)
ISBN: 978-88-31926-28-7
DOI: 10.12878/1088pressbyte2021_1
Text, images and multimedia materials are under the License Creative Commons CC BY-SA 4.0  of the Authors and 1088press, if not credited otherwise

.
Original title: Une boussole des possibles. Gouvernance mondiale et humanismes juridiques, Éditions du Collège de France, Paris, 2020.
Translation from French by Beatrice Pisani
This publication has been produced in collaboration with the academic staff heading the series "Legal Seminar of the University of Bologna" of the Department of Legal Sciences of the Alma Mater Studiorum – University of Bologna.
First edition: April 2021