4.6. Document #6
The translation of the letter from Massimo d'Azeglio1See Chapter 3. Conquest, prime minister and minister of foreign affairs, Kingdom of Sardinia, to Nicholas Brown, responding to Brown's plea for help for the refugees who accompanied him from Rome to Genoa, July 12, 1849.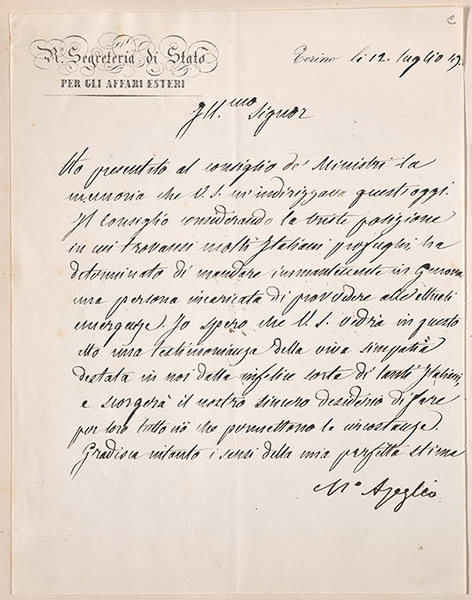 Secretary of State FOR FOREIGN AFFAIRS
Turin, July 12, 1849
Dear Sir
I presented the memorandum that you sent me today to the Council of Ministers.
Considering the sad state in which many Italians refugees find themselves, the Council has decided to send immediately a person to Genoa charged with providing for the present emergency. I hope that you will see in this act a testimony of the lively sympathy aroused in us by the unhappy fate of so many Italians and that you will take note of our sincere desire to do everything for them that circumstances permit. In the meantime, it is my pleasure to express to you my great esteem.
M. Azeglio2 See footnote 10, Chapter 3. Conquest, enhanced edition.