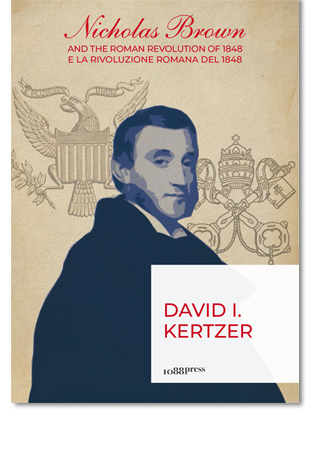 001-04
David I. Kertzer
Nicholas Brown and the Roman revolution of 1848 / e la rivoluzione romana del 1848
ISBN: 978-88-6923-423-1 (tascabile / paperback)
ISBN: 978-88-31926-06-5 (pdf)
ISBN-A: 10.978.8831926/041
DOI: 10.12878/1088pressbyte2019_1
pp. 76
pdf open access: gratuito / free
versione cartacea / paperback: € 14
formato / format: 15×21 cm
Unico rappresentante ufficiale del Governo degli Stati Uniti a Roma, durante la Rivoluzione del 1848, Nicholas Brown giocò un ruolo importante, anche se poco noto, nelle vicende di quegli anni. Appellandosi ai valori repubblicani e illuministi, sostenne attivamente la Repubblica Romana appena proclamata, in conflitto diretto con le istruzioni ricevute dal segretario di Stato del suo stesso Governo. Il suo carteggio con Mazzini, Armellini e Saffi e con altri protagonisti delle vicende romane tra il 1848 e il 1849, rimasto a lungo sepolto oltreoceano negli archivi della Brown University, offre quindi una nuova prospettiva su un episodio fondamentale del Risorgimento italiano.
David I. Kertzer, antropologo e storico, è professore di Scienze sociali alla Brown University. I suoi lavori spaziano dagli studi sul ruolo dei rituali e del simbolismo nella politica alla storia d'Italia nei secoli XIX e XX. Con il suo libro Il patto col diavolo. Mussolini e papa Pio XI. Le relazioni segrete fra il Vaticano e l'Italia fascista (2014) ha vinto il Premio Pulitzer nel 2015. Il suo ultimo libro The Pope Who Would Be King, dedicato alla Rivoluzione Romana, sarà presto pubblicato in italiano.
As the only official representative of the U.S. government in Rome at the time of the Roman revolution of 1848, Nicholas Brown played a significant, if little known, role. Invoking American republican and Enlightenment values, he took an active part in supporting the newly proclaimed Roman Republic, in direct conflict with the instructions he received from the U.S. secretary of state. His correspondence with Giuseppe Mazzini, Carlo Armellini and Aurelio Saffi, and other major figures in the drama of Rome in 1848-49, long buried in archives at Brown University, offers new insight into that key episode of the Italian Risorgimento.
David I. Kertzer, anthropologist and historian, is Dupee University Professor at Brown University. His works range from studies of the role of ritual and symbolism in politics to nineteenth and twentieth century Italian history. His book The Pope and Mussolini: The Secret History of Pius XI and the Rise of Fascism in Europe (2014) won the Pulitzer Prize in 2015. His most recent book on the Roman revolution, The Pope Who Would Be King, will soon be published in Italian.
Copryright
1088press
Alma Mater Studiorum – Università di Bologna
Via Zamboni 33, 40126 Bologna (Italy)
ISBN: 978-88-31926-04-1
DOI: 10.12878/1088pressbyte2019_1
Testi, immagini e materiali multimediali sono rilasciati sotto Licenza Creative Commons CC BY-NC-SA 4.0 degli Autori e di 1088press, se non diversamente indicato

.
Text, images and multimedia materials are under the License Creative Commons CC BY-NC-SA 4.0 of the Authors and 1088press, if not credited otherwise

.
Prima edizione: aprile 2019 / First edition: April 2019